Your guide to next level
3D Exterior Lighting
Master everything a pro 3d artist should know
Buy Instant Access
COMING UP
Master Every Commercial Scenario
Prerecorded Online Training
Learn to execute the most important lighting scenarios you need. Starting from the day, sunset, through the overcast, night to foggy and moody scenarios. It's all in here. Tons of lighting techniques, scenario breakdowns, color and composition concepts, and step-by-step commercial workflows. Prepare to work magic in Corona Renderer / 3ds Max / Photoshop. We include an entire 3d scene just for you to practice along with us!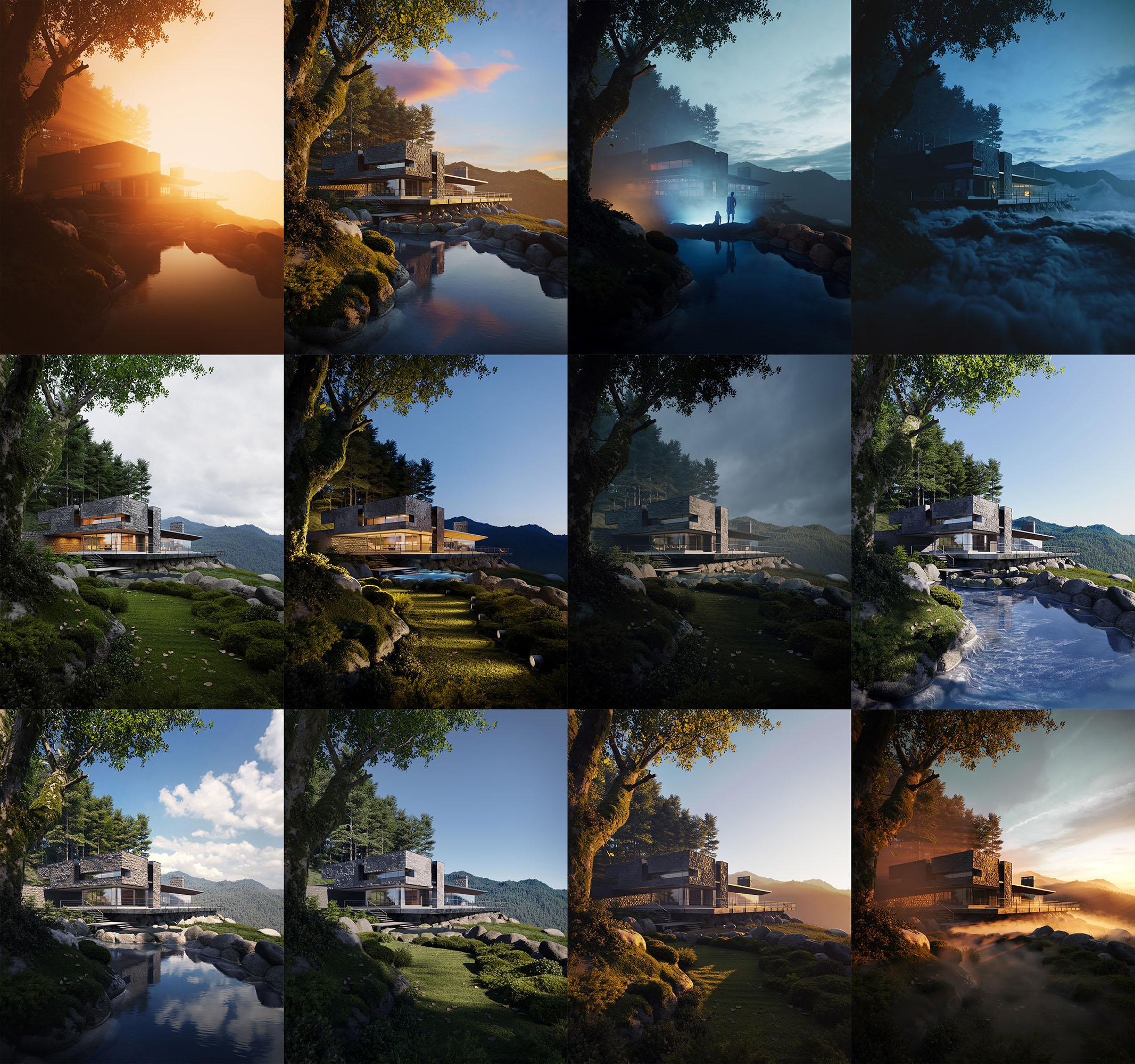 LEVEL UP!
Level up!
Junior or Senior
Prerecorded Online Training
Discover the how and why behind lighting in exterior shots. It's more than just a "click here and set this" attitude. It's a new school of thought where we help you understand things like: how to train your eye to spot the natural colors. What does it mean to execute a day, sunset, or night scenario successfully? Where does the lighting overlap with the composition, and how to use it to your advantage? Everything from solid fundamentals to techniques pros use every day.
Follow us as we break down the lighting process, and get inspired with multiple ideas that will help you see things from a broader perspective.
Study from the industry best!
Watch as we analyze the principles of the most popular commercial scenarios based on the works of our star guests. We pick the minds of the best in the industry and lay the nuggets of knowledge in a friendly manner. Enjoy tons of visual candy that will get you into the right frame of mind. Tons of collages, diagrams, examples, and interesting thoughts - You name it, it's in here! You'll finally know the goal of rendering before even start your 3d scene.
We study works of studios and artists such as Adrian Długosz, Blok Studio, Bobak Studio, DIG Group, Element, Ewelina Lekka, Karolina Makowska, Konstantinos Anninos, Łukasz Brzozowski, Marcin Jastrzębski, Michał Nowak, Northern Space, Paweł Pęcherzewski, Piotr Banak, sevenhundred, Tomasz Michalski, VA-ARTS, Vivid Vision. You wouldn't want to miss out on that!
SCENE CONTENT
Full 3d Scene Included
Prerecorded Online Training
That's right! Tons of vegetation models, 3d scans, and textures that are optimized for production. Follow along and practice as we explain the nuances of every lighting scenario in that very scene. Then, use it however you like, even in your commercial work.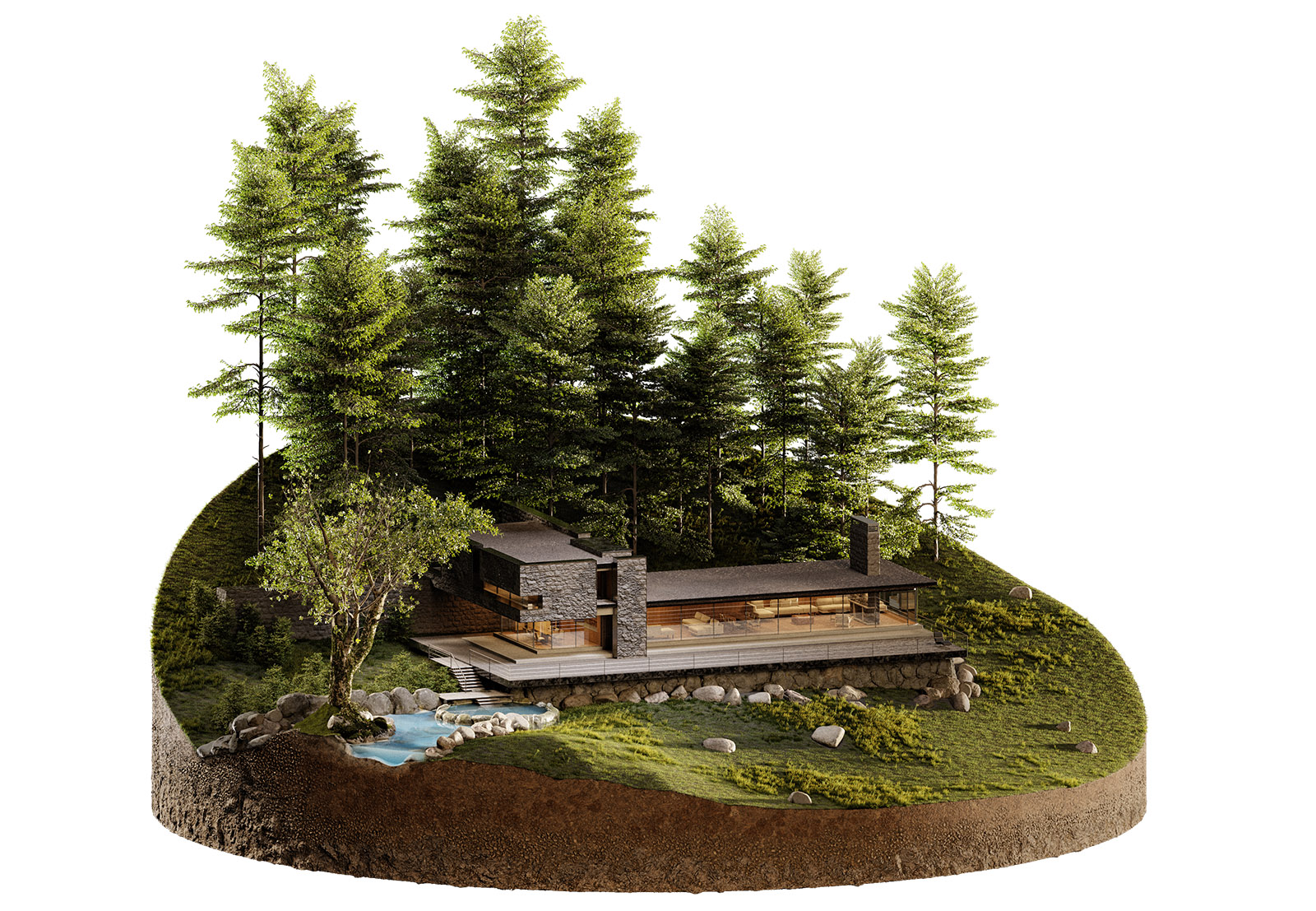 PRICING
399€ or Free!
Prerecorded Online Training
The training will be available for free 1.5 years from now! That's right! We'll upload 21 lessons to Youtube. We'll publish the first 4 lessons this February. And you can expect one new lesson each month. You can take it at your own pace.
Or just dive right into it! You can buy instant access and binge-watch the full prerecorded training at once (if you don't sleep for 24h straight). Or go immediately to what interests you the most and take your skills to a different level today. Plus, you'll get an entire 3d scene to practice along with us and use however you like, commercially and artistically.
399€
-
All lessons

instant access
- 29 lessons

(6 bonus lessons)


- 3d scene included
01.

All lessons

instant access




02.

29 lessons

(8 bonus lessons)


03.

Full 3d scene

included


03.

Educational HDRIs

included


03.

HDRI promo codes

included

Free!

1 lesson per month
23 lessons (no bonus content)
- 3d scene not included
01.

1 NEW lesson per month


02.

21 lessons (no bonus content)


03.

3d scene not included

Need more than 3 copies of training for everyone in your office? Reach out to hello@thecommonpoint.com for business inquiries. Remember that you can buy instant access to the training at any point in time in the future. So don't worry. The choice is yours!
COMMONPOINT MASTERCLASS
29 knowledge-packed lessons
CommonPoint Masterclass: 3D Exterior Lighting
Becoming a better lighting artist might feel like drinking from a firehose. No wonder! Lighting is a dynamic aspect that ties up everything in your image, so you should know a thing or two about pretty much everything. That's why we've broken down "everything" into paths that are easier to follow. Let us give you a taste of what's coming up next, and we'll turn that firehose into an afternoon cup of tea.
It all boils down to 29 easily digestible lessons. Just look below to see what you can learn from each one. Altogether, they unfold a full creative process behind lighting in exterior shots. Great lighting skills take practice, and we'll show you every aspect you need to train to get there.
01.
Module I - Day (8 lessons / 6h 41')
It feels like drinking from a firehose while becoming a better lighting artist. No wonder! Lighting is a dynamic aspect that ties up everything in your image, so you should know a thing or two about pretty much everything. Let us give you a taste of what's coming up next, and we'll turn that firehose into an afternoon cup of tea.
What makes an image 3-dimensional? What kind of challenges do you face in the fore, mid, and background? Depth is the easiest 3d concept, but many artists are still unfamiliar with it. Let's kick off the day scenario series and introduce the native corona renderer system - Corona Sun/Sky.
Eyes are our primary tool, and we often forget they need practice, too! This lesson kicks off with the color practice series that unfolds the "where and how to look at images." We dive deep into the black & white aspect of an image and tell you how to use it to your advantage. There is a way to check ourselves if the colors look natural!
The sun's direction is essential to a successful image and shouldn't be left to a mere accident. Let's make a reinforced decision about it and continue our training in the spirit of step-by-step problem-solving. It's time to put all the concepts together and make our first lighting scenario from start to finish.
More than a few people believe there's a secret to using HDRIs. Perhaps there is, but not really. It's very powerful but not difficult at all. How to set it up, what to consider and where to look for the best hdris on the market? Let's find out! Ah, and we dive into Photoshop and have a post-production warmup!
Some colors are more important than others, and you should train your eye to see if they look natural or not. You should be sensitive and have a mental benchmark of what they should look like. Let's give you some tools to practice that. That's another step to leveling up your color game!
This lesson has no hyperrealistic shaders; you can play with them in your personal projects. We're focusing on good enough greenery that works fast in a commercial workflow. You'll learn everything from setting up Slate Material editor to fixing issues with Corona Material converter. Many tips and tricks in this one!
Lighting scenarios don't go smoothly each and every time. You stumble on a problem and just don't know how to fix it; it happens. In this lesson, we prepare two scenarios. One that's nice and easy, and the other that needs some work. There's a deeper dive into tone-mapping and the curious properties of ACES and Filmic Mapping.
02.
Module II - Sunset (3 lessons / 2h 50' total)
A different lighting scenario, finally! You might think sunset is easy, but there are many traps you can fall into. Even though we can quickly bring emotions and have a vivid color palette, we might forget what the image is all about. Let's talk about challenges and opportunities with sunset and dusk images.
Contrast is another buzzword that means a lot of things to many different people. We can all agree it's essential, but what is it really about? There's an idea to train your eye and yourself to be more flexible with colors in this lesson. Even though it might take practice, "contrast as a sandwich" helps with that.
Looking for a perfect sunset hdri is pretty challenging. On the one hand, you look for sharp illumination and vivid colors; on the other, you'd love to have nice clouds. It's a typical issue, and the answer is sky-replacement. You got it. No more fringe issues, double-size rendering, or heavy post-production - if you know what I mean.
03.
Module III - Overcast (3 lessons / 2h 27' total)
Overcast scenarios are a different kind of beast. We no longer have a strong sun/shadow relationship and must think differently. Many tricks learned previously don't work anymore. What to do, then? Introduce a few new ones! New foreground trickery, basics of relighting, custom shaders - that's all here!
This scenario is pretty epic and not necessarily difficult if you know the trick. Your entire scene covers a smooth cloud shadow; still, some sun rays are coming through to make the building shine. Let's make our first image breakdown, pick the works of our star guests, and set up this unique scenario from start to finish.
By now, we hope you're on track with our way of thinking about color. You can assess and tweak different aspects of your image to reach an objective goal - natural colors. We have a mental benchmark and can investigate different parts of our images. So it's time to see the bigger picture of contrast. Today!
01.
Module IV - Night (2 lessons / 2h 20' total)
This scenario is troublesome if you don't know the trick, and oh boy! We have a good way to think about it. Expect a step-by-step workflow to set up night-time scenarios. This time we go through everything on paper just to wrap our heads around what's coming up next. Sit back, and we hope you enjoy it!
A practice heavy lesson with all the tricks needed to finish a night-time scenario. We start with a dark base, discuss the interior and exterior lighting. Finish on the landscape. There's different ways to reach the goal here, and we will walk you through the good and the bad solutions! Many tricks and techniques are included!
05.
Module V - Volumetrics (5 lessons / 4h 53' total)
It's time to dive deep into volumetrics. Another exciting topic and powerful tool to build a composition with. We've already dipped our toes in this water in previous scenarios, and now we explain how to go about it artistically and creatively. It's easier than you might think.
Volumetrics can give you lots of creative freedom, and we take advantage of that in this scenario. We paint the image with fog, render few specific passes and leave the heavy lifting to postproduction. And for the first time, we change the focus of the image from architecture to something else.
The third lesson on volumetrics is very practical, just like the others. We approach the sunset again, this time with a volumetric twist. If you ever wanted to spread fog across your scene, you're at the right place. All done in 3d. No worries though! You'll get a specific workflow here, that won't let your scene crash.
Have you ever scrolled through luts, wishing a miracle might happen? We did, plenty of times, until we understood the DNA of them. Now is the time, to demystify luts once and for all. Wait until you create one of them by yourself, with ease!
We've saved something really epic for the "big finaly". We approach vds and create and epic, cloudy scenario. Grab lots of tricks that make scenes with VDB objects production ready. Let's jump right in.
06.
Bonus Module (8 lessons / 4h 11' total)
Exclusive Paid Content
Just like the title says. We jump into our most iconic images, and explain what's inside. That's a great opportunity to revisit some old concepts and share some nuance to them. We'll also show you that sometimes you have to render a sunset scenario a few times, just to make one image.
In the second part of Bartosz breaks down his 2 scenes from the past. It's a perfect opportunity to look at work from the perspective of time and everything we learn so far. There are some tricks you already know, but you have a great opportunity to see them in action, in real projects. On top of that, there's tons of Photoshop tricks, so wait no more!
In the third part of this analysis we breakdown Cedar Shrine scene. There's an interesting use of volumetric effects and building depth. We can say that this image wouldn't function without the fog, but you'll see what we mean in just a second. On top of that, we introduce new ways in Photoshop to analyze color.
In the last part of this analysis we revisit few other topics. Like a seemingly uniform space in our Spa scene. See how it can influence your image in many different ways. We also jump into advanced volumetric scenarios and show you an alternative way of building depth with it. And the cherry on top is vdb and corona clouds on a brand new master-grade level.
By now, you know how important clouds are for the composition. But you don't have to always look for a perfect HDRI to replace the sky in postproduction. We're here to tell you, you can also make the clouds directly in Corona engine. Let us show you how it's done and go with us through every setting there is.
Let's talk about caustic today, a subject, we've been postponing the whole training. But it's about time we show you a simple way to use it. Thanks to Caustic Solver build in Corona engine, you can create realistic caustic effects, that will render fairly quickly. So let's see what the setup looks like.
Today we touch on a powerful postproduction tool that can be a real game changer. The light Mix. It allows you to modify lights after your render is ready. Change the intensity and color of the lights. Turn them on and off. This way you can make final decision, when you see an image in full detail. So let's try it out together.
This one is going to be quick. We'll show you one, but very useful trick, that is: how to use both Corona Sun and HDRI in one image. And why would you? We'll show you how to set it, so everytime you rotate the sun, the HDRI moves as well. This is a very fast setup that adds that extra touch to the render. So let's get to it.
Become a better 3d artist
Just become a better 3d artist!
Prerecorded Online Training
Find tons of ways to go forward with your 3d skills. Jump-start your career if you're a junior and get results like those you see on Instagram. Or maybe you're in the industry for years? It's about time to get yourself that extra edge that will let you go from good to awesome.
Junior Level
-
All lessons

instant access
- 29 lessons

(6 bonus lessons)


- 3d scene included
01.

Commercial scenarios breakdowns


02.

Key color concepts


03.

Corona Sun&Sky/HDRI implementation


04.

Basic lighting techniques


05.

Ready-to-go setups


06.

The right way of doing things

Senior Level
1 lesson per month
21 lessons (no bonus content)
- 3d scene not included
01.

Iconic projects breakdowns


02.

Lut creation


03.

Volumetric effects/VDB implementation


04.

Advanced lighting tips&tricks


05.

Commercially-viable 3d assets


06.

An easy way of explaining things

Start rendering!
Stop wondering.
Start rendering!
Prerecorded Online Training
There are a couple of good reasons to check our Youtube Channel and watch few lessons for free. But there are even more good reasons to buy and get an instant access. Believe us, you don't want to miss on that one!
FAQ
We work with 3ds Max 2021, Chaos Corona 9, and Adobe Photoshop. We use Chaos Scatter, which comes along with the Chaos Corona install. Scenes, and ready-to-go-setups are down-saved to 3ds Max 2018.
You can use all the CommonPoint assets like models, scans, and some of the 2d textures in your commercial work as well. Please note that HDRIs from PGSKies and 3D Collective and Corona textures included are meant to be used for educational purposes only. Though, we totally recommend buying them with the promo codes that come along with the purchase.
Both PGSkies and 3D Collective were kind enough to give a one-time use 30% discount codes on their products. PGSkies offers a one-time use for any purchase in the shop. 3D Collective offers a one-time use for "CommonPoint HDRI Selection".
Yes, the invoices are generated automatically and you can access them by clicking your profile icon in the top right corner of the webpage and selecting "settings". You can download your invoice in a pdf format under the "billing" tab.
Scenes from bonus lessons are not included, but the point of the breakdowns is to go through every possible setting, so you get a full understanding of how and why the things were made.
With instant access, you'll get a login to a platform, where you can access all the 29 videos that make up the training. You can watch the lessons in order or choose, what interests you the most and start there. You'll also be able to download the scene with the assets from the same platform.
When purchasing the Product, you gain access to its content until 31.01.2028. After that time, we will inform you whether your access will be available for a prolonged time or you may download the contents of the training.
It depends on the option you choose. All the lessons in the training take up 24 hours in total. So if you buy instant access to the whole training, you can watch it in something between a couple of days to a few weeks. It will definitely take more time to practice everything you've learned, though.
If you go for the free version, you'll find four lessons on YouTube in Feb, 2023 and another new free lesson every month. We'll keep uploading them till July 2024.
The training is in English and it goes with English subtitles which are 100% proofread. There are also Google translated subtitles available: Arabic, Chinese (simplified), French, German, Hindi, Polish, Portuguese, Russian, Spanish, Turkish. We don't vouch for their quality, but it's an option you can choose from.
The discount is up for the first 2 weeks after launch. Then the prices go back to the regular rates.
Yes. If you're not ready to buy instant access now, you can do it at any point in the future.
Unfortunately no. You can download the scene and included assets, though.
No. This training will cover just the exterior lighting.
Not at this time, but we consider preparing a webinar in the future.
Unfortunately, a refund won't be possible with this course.
SIGN UP
Stay Tuned!
Enjoy the upcoming free content, all of the updates on our work and other cool stuff we're preparing for you.
Leave us your email and always be the first to get noticed.